Happiness is a Japanese pop vocal and dance group under the agency LDH JAPAN, signed to the label rhythm zone and part of the E.G.family. The group was formed in 2008 and released an indie DVD single, titled "Happy Talk", in 2009. They made their major debut with the single "Kiss Me" on February 9, 2011.
Main article: Happiness/Members

Current Members
Former Members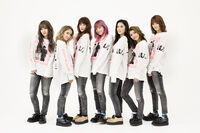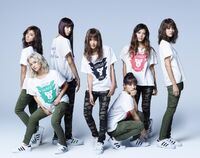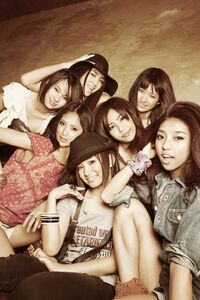 Pre-debut and indie debut
Edit
Happiness first appeared during EXILE's 2008 Live Tour as backup dancers, at the time being a five-member unit consisting of MIYUU, MIMU, KAREN, SAYAKA, and KAEDE. YURINO was then added to the group after an LDH audition in 2009 before the group was set to debut as a group. They released their indie debut DVD single, "Happy Talk", on October 21, 2009. It was also used as the theme song for Japanese brand Mister Donuts.
2009-2014: Major label and E-girls formation
Edit
MAYU was added to the group and announced on December 25 2009,[1] before the group made their major debut on February 9, 2011 with the release of their first major label single, "Kiss Me".[2] They went on to release several more singles throughout 2011. MIMU was absent from the group's promotions after going on hiatus in December 2011,[3] including their single "We Can Fly", before leaving the group in October 2012, citing she wanted to focus on her studies.[4]
In November 2011, Happiness was confirmed to be joining sister groups Dream and Flower in the collective group E-girls.[5] Member MAYU also went on a hiatus in August 2012 to undergo medical treatment after being diagnosed with infectious mononucleosis.[6]
E-girls members Suda Anna and Kawamoto Ruri joined the group in May 2013 as a dancer and vocalist respectively,[7] and the group released their fifth single, "Sunshine Dream ~Ichido Kiri no Natsu~".
MIYUU was announced as the new leader of the group on January 30, 2014.[8] Sugieda Mayu, after months of hiatus, left both Happiness and E-girls on April 7, 2014.[9]
Happiness changed labels in 2014, moving from Universal Music to E-girls label rhythm zone and continued to promote with them, releasing their sixth single, "JUICY LOVE", on May 28, 2014 and their seventh single, "Seek A Light", on November 19, 2014, between E-girls singles.
2015-2016: GIRLZ N' EFFECT and first tourEdit
After 11 months since "Seek A Light"'s release, the group released the single "Holiday" on October 14.
On December 27, 2015, Happiness announced their ninth single, "Sexy Young Beautiful", released on February 3, 2016.
On August 11, 2016, it was revealed on E-girls' last day of their third tour E-girls LIVE TOUR 2016 "E.G. SMILE", that Happiness will be releasing their second album GIRLZ N' EFFECT on October 12, 2016. They also announced the group's first tour Happiness LIVE TOUR 2016 GIRLZ N' EFFECT that will go from November 9 until December 20, 2016. It was also announced that Fujii Karen will be part of the sub-unit ShuuKaRen, alongside her sister and Flower member Fujii Shuuka.
On November 26, 2016, the unit SudannaYuzuYully, including members Suda Anna and YURINO announced to be debuting on March 1, 2017 with the single "OH BOY".
On February 8, the group released their 10th single "REWIND".
On August 27, the group participated on the annual festival a-nation, being their first time participating on it.
The group released their 11th single "GOLD" on September 10. The single ranked #1 on Oricon's weekly singles chart on the following week, being their first #1 single.
On January 16, the group released their first digital single "POWER GIRLS".
The group will be participating of E.G.family's first tour E.G.POWER 2019 ~POWER to the DOME~ that will go through from February 22 to May 18.
On May 15, the group will be releasing "POWER GIRLS" as their twelfth single.
Discography
Edit
Main article: Happiness Discography
[2012.06.20] Happy Time
[2016.10.12] GIRLZ N' EFFECT
Digital Singles
Edit
[2019.01.16] POWER GIRLS
Pre-released Digital Singles
Edit
[2013.07.31] Sunshine Dream ~Ichido Kiri no Natsu~
Video Releases
Edit
[2009.10.21] Happy Talk (DVD single) (indies)
Compilations / Other
Edit
Concerts/Tours
Edit
Tours
[2016.11.09-2017.01.17] Happiness LIVE TOUR 2016 GIRLZ N' EFFECT
Concerts Featured In
Edit
Filmography
Edit
Music Videos
[2011] EXILE - "24karats STAY GOLD (KIDS & GIRLS version)"
[2011] EXILE - "Rising Sun"
Commercials
Main article: Happiness/Trivia
References
Edit
External Links
Edit