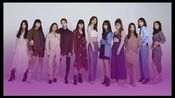 The announcement was initially made by a video that was aired at the start of the event, showing the future of the members after the group's disbandment. It was later revealed by Sato Harumi that the group went through several discussions of the members' future and the group's future during spring of this year, and while they shared their next goals and dreams for the future, they sometimes didn't felt the same way and even disagreed in some moments, but after several talks, they came to this decision to do their best on each of their roads.
In the video, it was revealed that after the disbandment Bando Nozomi, Sato Harumi, Ishii Anna and Yamaguchi Nonoka will be focusing on their acting and modeling careers, SAYAKA, Kaede, Fujii Karen, YURINO and Suda Anna will be devoting full time to Happiness, who got a partnership with the American company 88rising with intentions of expanding the group worldwide; Washio Reina will be making solo debut as a singer, and Takebe Yuzuna will join a new unit formed with successful candidates of the world audition held by the DJ and LDH EUROPE's CEO Afrojack.
E-girls started in April 2011 as a "girls entertainment project" formed with all members of Dream, Happiness and Flower. On December 28 of the same year, the unit debuted with the single "Celebration!". In April 2013, the group released their first album Lesson 1, which was the group's first #1 release. In December of the same year, the group got invited for the first time to perform on NHK's Kouhaku Uta Gassen, which the group participated five times, from 2013 to 2017. From 2012 to 2017, the group went through several member changes and additions until June 5, 2017, when it was announced the main rebrand of the project. On that day it was announced that the project, who united several acts into one group, was transformed into a new project called E.G.family, where the units were now independent from E-girls, while E-girls also formally became an 11-member group. Since then, the 11-member group released an album, several singles and went on an arena tour.
The group is scheduled to release their 24th single, "Bessekai", on January 29, 2020 and go on a new arena tour E-girls PERFECT LIVE 2011▶2020 starting in February, which will be last tour of the group. It was later revealed that the group will be disbanding on December 31, 2020.
Announcement from E-girls
The activities of E-girls which they have been carrying out for about 9 years will come to an end on December 31, 2020, and the members will embark on their own journeys.

Harumi Sato, Nozomi Bando, Anna Ishii and Nonoka Yamaguchi will carry out activities as actresses and models. Happiness will team up with 88rising and aim for the global expansion. Yuzuna Takebe will form a new group with the members chosen in the audition supervised by Afrojack and held in 8 cities across the world. Reina Washio will debut as a solo artist.

You must be surprised by this sudden announcement. Taking this opportunity, the 11 members would like to convey our thoughts to you.

The activities of E-girls started in 2011. Whatever the situation was, you have been always supporting us. Thanks to your support many of our dreams came true.

We have been working hard as E-girls for 8 years while having many encounters and partings, supporting each other and working closely with the staff.

But gradually we came to have our own goals and dreams in life, and we have discussed this many times. Everyone had their own ideas, and it was hard to reach an agreement. So we made such a decision after considering it for a long time.

We spent the most precious time and our youth with E-girls. Apart from members, we were also blessed with people who have been supporting us all along, and we will never forget it.

We are full of gratitude. Thank you very much.

"E-girls PERFECT LIVE 2011→2020" to be held next year will be the last live tour of E-girls. We will go all out up to the end of 2020 to express our gratitude and our own thoughts.

Please keep supporting us.

All the members of E-girls
Links: E-girls website (in Japanese), natalie (in Japanese), LDH JAPAN (English website)